Incoming & Upcoming 

Are you Getting Our Volunteer Update Emails? Download past issues here
---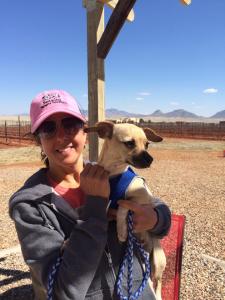 Puppies & Pairings at Rancho Rossa Vineyards was a big success! The event raised nearly $2,000 for the shelter and KING was adopted. Barb, Susan, Pat, Ruth, and Cheryl volunteered, along with Freddy and Ramon. 
---
April 5 is our annual GIMME SHELTER Golf Tournament at Tubac Golf Resort. There is still time to sponsor a hole for $125 to honor a loved one or pet, or promote your business.
Contact Sue
---

We have a new Web site manager! Greg Whitcoe from Patagonia has stepped up to manage the site. This Volunteer Page is possible because of him, and soon you will see a new Home Page too. Greg will help produce videos about the shelter and much more so stay tuned. Greg has a graphic design business and is available for all kinds of marketing and branding projects.
Email Greg
---
A Volunteer Bulletin Board has been hung just inside the hallway to the Purr Palace. What would you like to see posted to this board? We are looking for ideas.
Email Cheryl
---
Help Wanted
Can you write donor thank-you notes from home? Nancy has been doing it for years and would like someone to take it over. We supply the info, notes, and stamps. Call the shelter: 287-5654.
Red's Thrift always needs a hand. Red's brings in 30% of our annual revenue and is critical to running the shelter. We are constantly receiving donations and need more volunteers to sort, price, and organize stuff – or sweep and straighten the thrift store. Call the shelter to learn more 287-5654.
Here's a list of 2015 projects (click here) we're looking for volunteers to lead.
Contact Cheryl if you are interested.
Download Volunteer Resources