Can I surrender my pet, or bring a lost or stray animal, to SCHS?
Yes, if our facility has space available, you may surrender a dog or cat during our regular hours. (We do not accept other animals.)
Hours of Operation:
Mon – Sat 8am – 3:30pm.
Closed Sunday
There is no surrender fee, but we appreciate a small donation to cover the costs of preparing the animal for adoption.
Outside of our normal hours, please surrender your pet at Santa Cruz County Animal Control, located at:
1368 N. Hohokam Dr., Nogales, AZ 85621
(520) 761-7860
http://www.co.santa-cruz.az.us/animal
Are you a 'no-kill' shelter?
Yes, we are a 'no kill' shelter, however, since there is no universally accepted definition of 'no kill,' here is what this means for SCHS:
Except for the restricted breeds listed below, we will accept and make every effort to care for and find a forever home for the dogs and cats brought to SCHS. However, if the animal is vicious and uncontrollable, or is so sick or injured that the funds to care for it are greater than the shelter can justify, based on its mission to help as many animals as possible in Santa Cruz County, we may choose to euthanize the animal. We believe this is the most humane alternative to a life of pain or suffering, or life in a cage.
Breeds SCHS does not accept:
• Pit bull
• Shar pei
• Chow
• Rotweiler
• American bull dog
If you are surrendering, or have picked up a lost dog that is one of these breeds, please surrender the animal to Santa Cruz County Animal Control.
1368 N. Hohokam Dr. 85621
(520) 761-7860
http://www.co.santa-cruz.az.us/animal
What are your prices for adoptions, surgeries, and other services?
Can you euthanize (put to sleep) my pet?
No. If you have an animal that needs to be euthanized, please contact a local veterinarian. Here are several we recommend:
Roberto Rojas, DVM (Veterinarian for SCHS)
Companion Veterinary Center
(520) 281-0900
762 N. Morley Avenue, Nogales
Simon Escalada, DVM
Nogales Veterinary Clinic
(520) 287-2888
1283 N Grand Ave, Nogales, AZ 85621
Between 3rd Street and W. White Park
San Cayetano Veterinary Hospital
(520) 761-8686
1133 Circulo Mercado
Rio Rico, Arizona 85648
www.sancatetanovet.com
What if I adopt a pet and change my mind? Can I return the animal?
Any adopted animal may be returned up to 7 days after adoption for a full refund of adoption fees. If you return the animal after 7 days, there is no refund.
Does SCHS spay/neuter feral cats?
A feral cat has been visiting my yard/I have found a litter of feral kittens. What should I do?
Contact Paws Patrol, a non-profit organization working to reduce feral cat overpopulation by conducting Trap/Neuter/Return (TNR) in various areas of the county. Paws Patrol will trap cats from feral communities or barn cats, have them neutered or spayed, then return them to their feral community. Or, they will find a foster home for tiny kittens. For more information: www.greenvalleypawspatrol.org
Can I have my dog or cat sterilized at SCHS, even if I didn't adopt my dog or cat there?
Will SCHS microchip my dog, even if I adopted him or her somewhere else?
Yes. We offer this service for $25. Please call ahead to schedule an appointment.
Does SCHS offer dog training or behavior classes?
SCHS does not offer classes, but one of our volunteers does. Trainer Lynn Carey volunteers to work with our shelter dogs twice a week and is available for private lessons too. Reach Lynn at 520-237-9794 or proflair1@gmail.com.
What kind of animals can I adopt from SCHS?
SCHS has dogs and cats available for adoption.
Santa Cruz Humane Society
232 East Patagonia Highway
Nogales, AZ 85621
(520) 287-5654
Santa Cruz Humane Society
232 East Patagonia Highway
Nogales, AZ 85621
(520) 287-5654
Hours of Operation:
Monday – Saturday
8:00am – 3:30pm
CLOSED SUNDAYS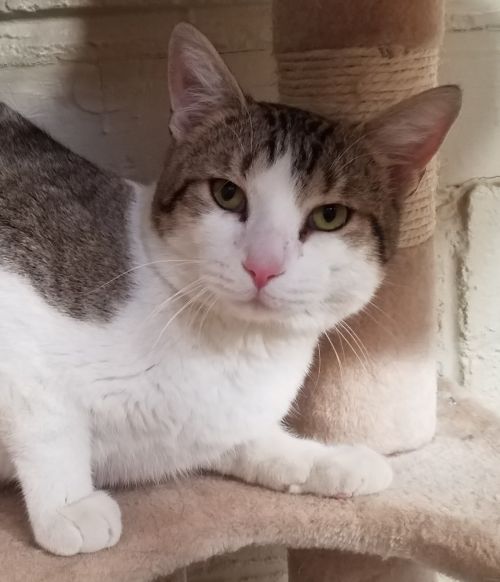 Stewart is a very sweet and lovable cat. He gets along fine with other cats and loves head rubs!... More >
Subscribe to our mailing list