Come Pet a Pooch, Enjoy a 

Pastry in the Plaza and
Adopt Your New Best Friend!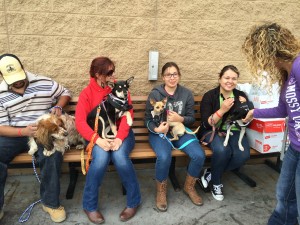 On September 27 from 10AM-1PM, SCHS kicks off monthly adoption events at the Plaza de Patagonia in downtown Patagonia, 277 McKeown Avenue. All events will be held from 10AM-1PM on the last Saturday of the month – weather permitting. (Except for November and December.)
Join us in front of Ovens of Patagonia bakery, sweets, and gift shop to meet our doggies and kittens and take home your new family member!
We'll post information and photos of the animals that will be at the event on our Facebook page, a day or two before each event.
Adoption fees for dogs range from $80 – $150 and include spay/neuter surgery, all vaccinations, and microchip.
The adoption fee for cats and kittens is $35-40 and includes spay/neuter surgery and all vaccinations.
Questions about the adoption process? Call the Santa Cruz Humane Society: (520) 287-5654. If it looks like rain, please call the shelter to verify that the event has not been cancelled.
Questions about the event location? Call Ovens of Patagonia: (520) 394-2330